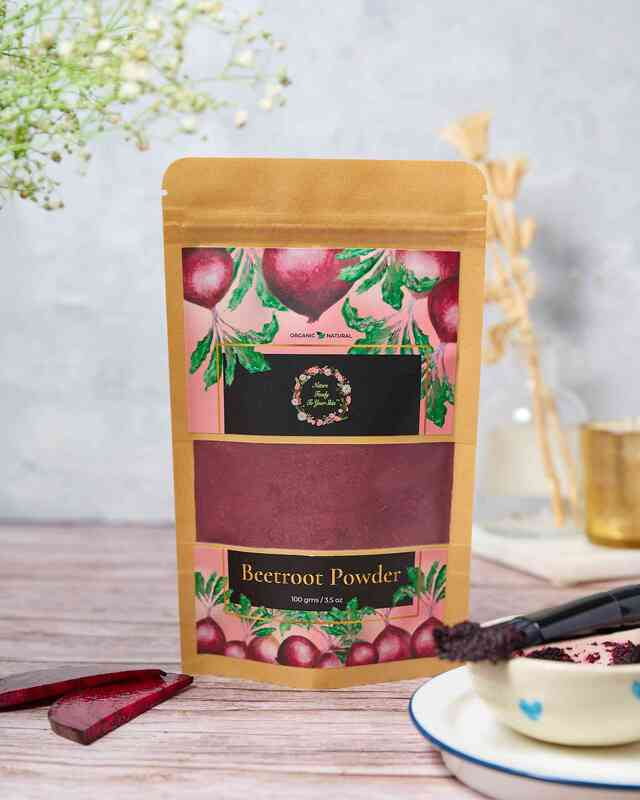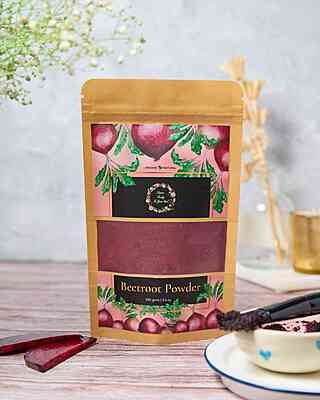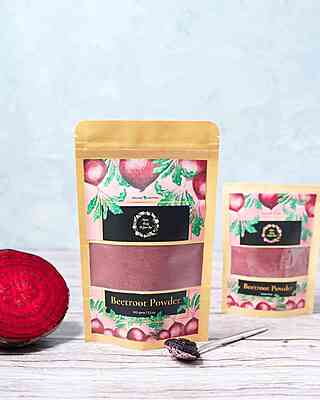 Beetroot Powder
Introducing our exquisite, pure, and organic Beetroot powder! Cultivated with utmost care on our chemical-free farm, we ensure a completely natural growth process. Our beetroots are nurtured organically, without any chemical fertilizers or pesticides, making them the finest quality available.
To preserve their essence, we use solar dryers, allowing the beetroots to bask in the sun's gentle rays for several days. This meticulous drying process ensures that our powder retains all the beneficial nutrients and vibrant color.
To use beetroot powder for skincare, follow these simple steps:

1. Facial Mask: Mix 1-2 tablespoons of beetroot powder with aloe gel ,cactus gel ,water, rose water, or yogurt to form a smooth paste. Apply the mask evenly on your cleansed face and leave it on for about 15-20 minutes. Rinse off with lukewarm water and pat your skin dry. This mask can help brighten your complexion and promote a natural glow.

2. Lip Scrub: Create a lip scrub by mixing beetroot powder with a small amount of honey or coconut oil. Gently massage the mixture onto your lips in circular motions for a minute or two. Rinse off with water and follow up with lip balm for soft and nourished lips.


3. Body Scrub: Combine beetroot powder with a carrier oil like almond oil or olive oil & sugar to create a body scrub. Massage it onto damp skin in gentle circular motions, focusing on rough areas like elbows and knees. Rinse thoroughly to reveal smoother skin.
Using beetroot powder for skin can offer several benefits:

1. Natural Glow: Beetroot powder contains antioxidants and vitamins like vitamin C, which help in brightening the skin and giving it a natural, healthy glow.

2. Anti-Aging Properties: The antioxidants in beetroot powder can combat free radicals, reducing the signs of aging and promoting youthful-looking skin.

3. Hydration: The powder is rich in moisture and helps to keep the skin hydrated, reducing dryness and flakiness.

4. Even Skin Tone: Beetroot powder's natural pigments can help even out skin tone and reduce the appearance of blemishes and dark spots.

5. Collagen Boost: It contains silica, a mineral that supports collagen production, promoting skin elasticity and firmness.

6. Exfoliation: The slightly grainy texture of beetroot powder can act as a gentle exfoliator, removing dead skin cells and revealing a smoother complexion.

7. Anti-Inflammatory: The powder's anti-inflammatory properties can soothe irritated skin and reduce redness and inflammation.

8. Acne Treatment: Beetroot powder's antimicrobial properties may help combat acne-causing bacteria and promote clearer skin

Enjoy the natural benefits of this organic wonder and embrace healthier, radiant skin