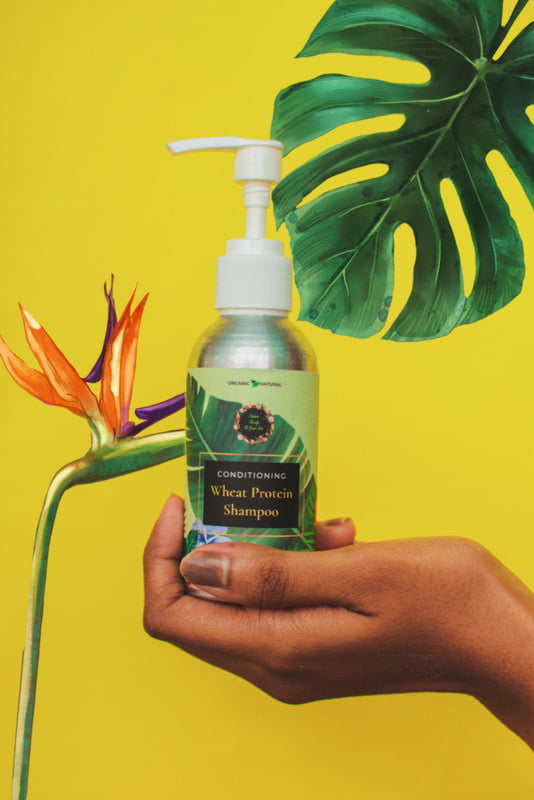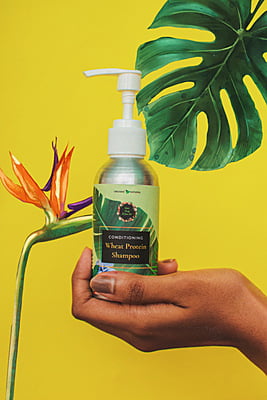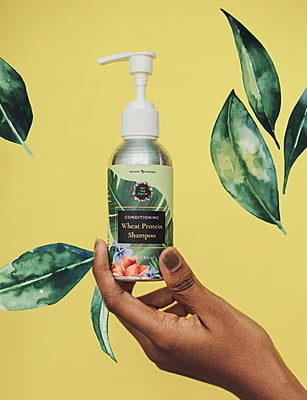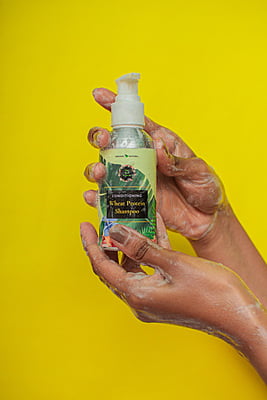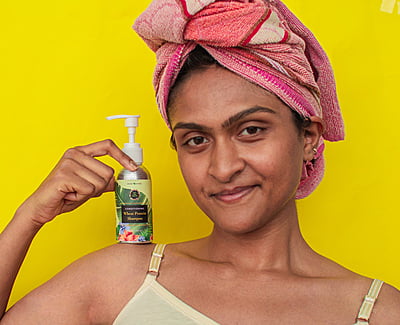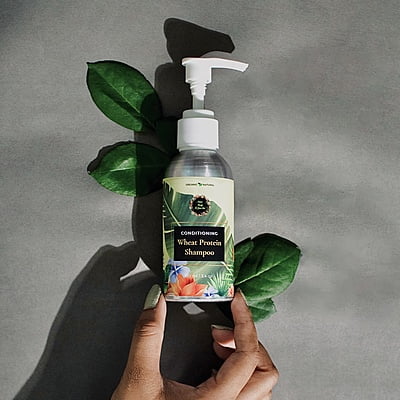 Conditioning Wheat Protein Shampoo 100ml
Using our Wheat Protein Shampoo with ingredients like wheat protein, aloe vera, d-panthenol, xylishine, and vitamin E can offer several benefits for your hair:

1. *Nourishment and Hydration:* Wheat protein helps in providing essential nutrients and amino acids that can strengthen and nourish your hair, making it healthier and more manageable.

2. *Moisturizing:* Aloe vera is known for its hydrating properties, helping to moisturize the scalp and hair, reducing dryness and frizz.

3. *Improved Hair Texture:* D- panthenol, also known as pro vitamin B5, can enhance hair elasticity and improve its texture, leaving it smoother and more lustrous.


4. *Shine and Luster:* Xylishine is a natural sugar derivative that can add shine and luster to your hair, making it look more vibrant and glossy.
5. *Strengthening and Repair:* The combination of wheat protein and other ingredients can help repair damaged hair and strengthen the hair shaft, reducing breakage and split ends.

6. *Reduced Hair Loss:* The nourishing and strengthening properties of these ingredients may contribute to reducing hair loss and promoting healthier hair growth.

7. *Soothing Scalp:* Aloe vera's soothing properties can also benefit the scalp, helping to alleviate itchiness and irritation.
Sodium cocoamphoacetate & sodium cocoamphoacetate & Cocamide MEA (empicol xct)
Acrylate copolymer (repoly100)
Sodium methyl cocoyltaurate
Panthenol
Glycerin
Hydrolysed wheat protein
Aloe barbadensis leaf (aloe Vera)
Xylitylglucoside-anhydroxylitol-maltitol
Xylitol-pelretia canaliculata extract (xylishine)
Glycol distearate (EGMS)
Phenoxyethanol & ethylhexylglycerin (Eco-certified preservative)
Tocopherol (vit e)
Capric triglyceride (fractioned coconut oil)
Prunus amygdalus dulcis ( almond oil)
Disodium EDTA
guar hydroxpropyltrimonium chloride (guar gum)

CITRUS AURANTIUM FLOWER OIL (Neroli essential oil )
Direction To Use :

For best results, take the required amount of our wheat protein shampoo, mix it with water, gently apply to your hair, and thoroughly rinse. Experience the wonders of soft, manageable locks with every use. Elevate your hair care routine and embrace the beauty of healthy, radiant hair.