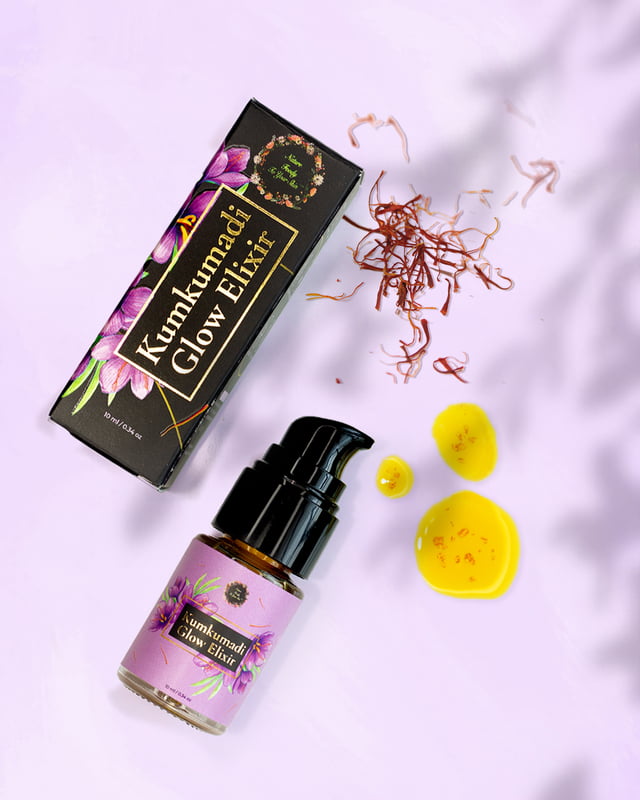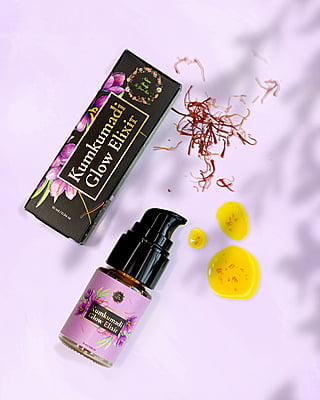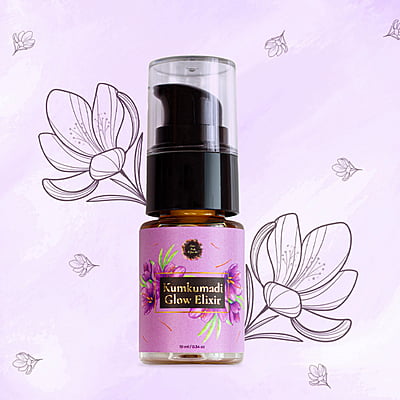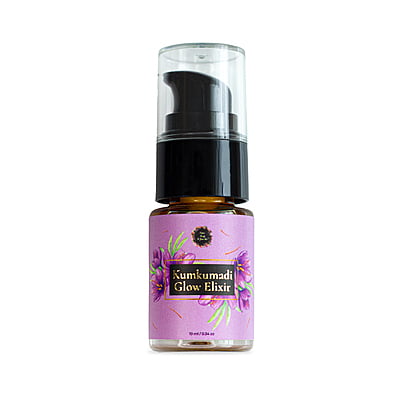 Kumkumadi Glow Elixir
Kumkumadi Glow Elixir is a luxurious skincare product with numerous benefits for the skin. This elixir is derived from the ancient Ayurvedic recipe of Kumkumadi, which has been used for centuries to enhance the complexion and bring a youthful glow to the skin. The gold in the elixir is known for its anti-aging properties, and the saffron and other potent herbs in the formula help to improve the texture and tone of the skin.
Sesamum indicum (sesame),
Mesua ferrea (Ceylon ironwood),
Rubia cordifolia (majistha)
Glycyrrhiza glabra (licorice)
Berberis aristata (Indian barberry)
Pterocarpus santalinus (red sandalwood)
Vetiveria zizanioides (vetiver)
Prunus puddum (Himalayan cherry)
Ficus benghalensis ( banyan fig)
Ficus reigiosa (sacred fig)
Gold (CI-77480)- gold flakes
There are various ways to use Kumkumadi Gold Elixir for maximum benefits. One way is to apply a few drops of the elixir onto your face and neck after cleansing and toning. Gently massage the elixir into your skin using upward circular motions, focusing on areas with fine lines and wrinkles. For best results, use it twice a day, in the morning and before bed.
Another way to use Kumkumadi Gold Elixir is by adding a few drops to your favorite moisturizer or face mask. This can help to enhance the benefits of these products and provide an extra boost of nourishment and hydration to the skin.
Kumkumadi Gold Elixir can also be used as an overnight treatment for the skin. Apply a generous amount of the elixir onto your face and neck before bed, and allow it to work its magic overnight. When you wake up in the morning, you'll notice that your skin looks more radiant and rejuvenated.
In conclusion, Kumkumadi Gold Elixir is a luxurious and effective skincare product that can provide numerous benefits to the skin. Whether you use it alone or in combination with other products, it's sure to become an essential part of your skincare routine.