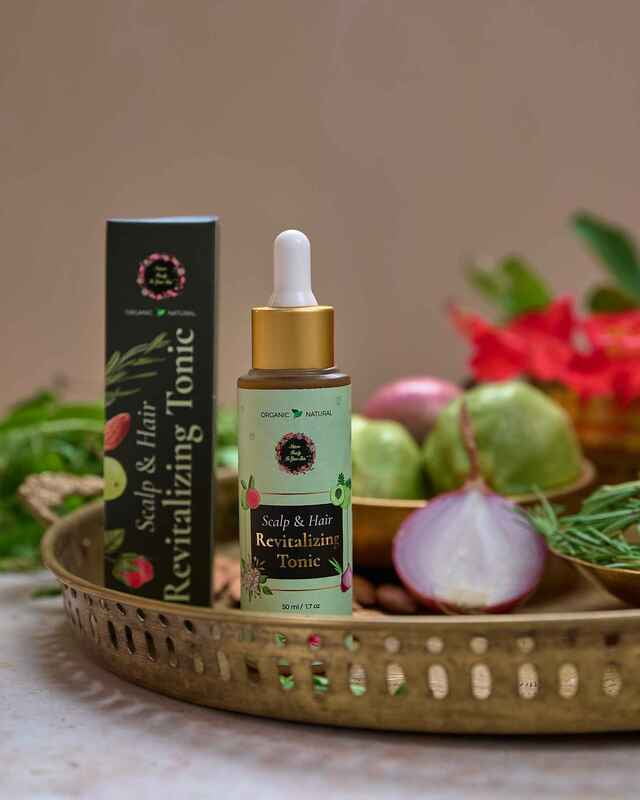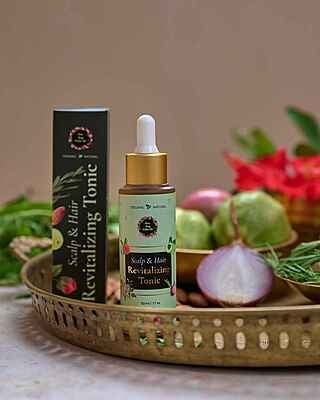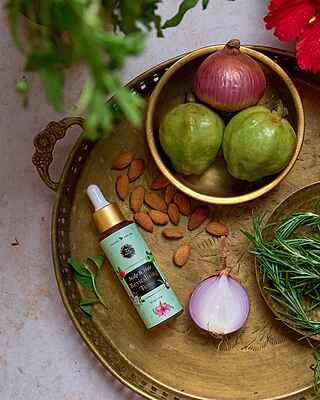 Scalp & Hair Revitalizing Tonic
Introducing our revolutionary Scalp & Hair Revitalizing Tonic, crafted with a potent blend of natural wonders:

1. Almond Oil - Rich in nutrients, promotes hair strength and shine.
2. Argan Oil - Nourishes the scalp, encourages hair growth with antioxidants.
3. Guava Seed Oil - Revitalizes the scalp, promotes healthier hair with vitamins A, B, and C.
4. Kalonji - Combats dandruff and scalp irritation with antimicrobial properties.
5. Cajeput Oil - Soothes the scalp, maintains a healthy environment.
6. Onion Oil - Supports hair growth, combats hair loss with sulfur content.
7. Rosemary Oil - Stimulates hair follicles, adds volume, and promotes growth.
8. Bhringraj Extract - Strengthens hair roots, prevents hair fall (Ayurvedic ingredient).
9. Brahmi Extract - Nourishes the scalp, promotes healthy hair with antioxidants.
10. Hibiscus Flower Extract - Conditions the hair, making it smooth and manageable.
11. Amla Extract - Improves scalp health, strengthens hair with vitamin C.

Experience the power of nature in every drop for a dandruff-free scalp and beautifully revitalized hair. Embrace luscious locks with our Scalp & Hair Revitalizing Tonic!
Prunus Amygdalus Amara Kernel Oil (Almond oil)
Argania spinosa kernel oil (Argan oil)
Psidium guajava oil (Guava Seed oil)
Nigella sativa (Kalonji)
Melaleuca leucadendron cajaputi oil (Cajeput oil)
Allium cepa bulb oil (Onion oil)
Rosamarinus officinalis leaf oil (Rosemary oil)
Eclipta alba extract (Bhringraj extract)
Bacopa monniera extract (Bhrami extract)
Hibiscus rosa-sinensis flower extract(Hibiscus flower extract)

Emblica officinalis fruit extract (Amla extract)
Apply the hair tonic directly onto your scalp. Part your hair to expose the scalp, and then use the dropper to distribute the oil evenly across the desired areas. Gently massage the tonic into your scalp using your fingertips for a few minutes. This helps stimulate blood circulation and ensures the tonic is absorbed properly.


•

Indulge in a hot steam: After applying the hair tonic, give yourself a hot steam treatment. You can do this by using a warm towel, a steamer, or by sitting in a steamy shower for at least 5 minutes. The steam helps open up your hair follicles, allowing the tonic to penetrate deeply and nourish your scalp.


•

After an hour or two Use a mild shampoo gently lather it on your scalp and hair and rinse thoroughly with lukewarm water.
•

You do this ritual weekly twice